Film makeup artists should be on every set. They really make a difference to the film that the eye can't see. We take a look at how to find one for your student or microbudget film. Thinking about becoming a film and TV makeup artist? We have some advice for you too.
Do Student Films Need A Makeup Artist (MUA)?
Students get so involved with casting, crew, equipment, location and scheduling issues that wardrobe, hair, and makeup are often overlooked. And they're not the only ones, because many zero budget enthusiasts also forget to plan for these small – but important – details.
They start filming in the glare of the sun or turn on strong lights in a small, crowded room that quickly overheats. Either no one notices the actors gathering a pink hue or else no one dares mention it, hoping it won't matter.
Only later during editing do the ruddy complexions, scabby spots, random specks of dust in the hair and overdone mascara suddenly take on a life of their own. They subtly interfere with the audience's ability to concentrate and engage with the character's emotions on screen. Seriously, the small details are the ones which come back to haunt you.
That's why hair and makeup artistry were included in our 25 essential steps to making a short film.
How Can I Find A Makeup Artist Near Me?
A production team with a budget has easy access to professional, trained MUAs. They're usually people they've worked with before, who initially arrived on the scene via recommendations from other industry friends. MUAs also advertise widely and often put together a decent website, so they're not hard to find.
If you have no budget to pay an experienced professional you have to work harder to find someone with decent MUA skills. But it is possible.
There are always people looking to become a film make up artist. Whether they are gathering experience for entry to a course or to directly enter the industry, volunteering on your zero budget project will give them observations and opinions to talk about in interviews and sales pitches.
Students have the advantage of university and college contacts to quickly identify possible collaborators. But everyone can access a whole range of Facebook groups to directly contact filmmaking networks across the UK. With many of these groups boasting thousands of members, it's a great way to find someone directly or receive good recommendations.
Casting websites are also useful. If you have no money, try Starnow. If you can scrape together even a minimum fee then head to Mandy jobs.
But only invite an MUA to your set if you have insurance in place, even if they're attending on a voluntary basis. Too many people running microbudget sets don't protect their volunteers with insurance, which is unacceptable.
Advertising Your MUA Role
Time and again you see micro-budget projects fail to attract the right people because the advert was badly written. For some reason, just shouting out the name of the project and the types of cast and crew required seems to be as far as many people get.
Perhaps they're in a hurry and can't spend time thinking beyond their checklist. Or maybe they think there are long lines of people desperately waiting in line for the chance to work for free on a project that actually very few people will ever notice happened even if it gets finished and released.
If you are going to the effort of making a film, no matter how short or low budget, sell and market it at every opportunity. You never know which potential future collaborators and employers may be watching.
Advertise each role separately, with the role specified at the beginning of the title (most people bury the information deep in the Facebook post beyond the 'read more' tag. That doesn't get included in notification emails and is only accessed by a small number of your potential audience).
Explain the project generally, why you are making it and where it will ultimately land.
Set out how many actors and extras will require MUA attention, and to what extent.
If it's a horror or period piece are there specific skills needed?
We'd hope you will pay your MUA, so set out the fee –
Or, explain WHY you aren't able to pay – this is seldom done and really irritates everyone
Will you provide lunch or travel costs?
Who will provide and pay for the hair and makeup equipment?
Give truthful reasons about what benefit the MUA would get from involvement. Perhaps set out your past short film successes and give links.
Give serious thought to IMDb listing, it is usually worth doing.
Set out the dates and location – and don't just specify a month!
Have you got an entertaining picture of your project, team or MUA items to get people's attention?
After the project is completed, don't forget to credit your MUA and involve them in social media activity related to your project. Their followers and collaborating network are just as important as those of the actors and extras.
Putting a recommendation on a Facebook group where you found them also looks good to both you and them.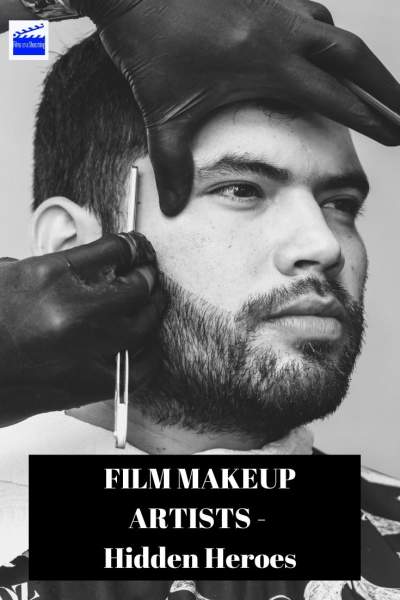 Why Become A Film Makeup Artist?
The film and TV industries employ people who are good at their jobs with little regard to your education and background. Having well-connected parents really does help boost any career in film and TV, but ability means you'll gather the networks and connections to get you noticed by the right people.
It can be a very exciting career move. You may well get to meet your screen heroes, and seeing a production you worked on hit the big or small screen is a great feeling. Even at a small, micro-budget level, working with people who love what they do is emotionally rewarding.
Makeup artists are in demand from London and Los Angeles, to Vancouver and Brisbane. Even in small towns, there are micro-budget projects happening somewhere nearby.
You have to have more than a great ability with a makeup brush, though that is a prerequisite of course. You'll arrive on location from 5 am, ready to work long, tiring hours on your feet. You must multitask well, flexibly dealing with a rota of different people and looks to a very pressured timetable. Then you'll spend tedious hours waiting to do touch-ups, sometimes outside with nowhere to sit.
And through it all, you need to happily chatter with performers as you work on their face and hair. Paying attention to the conversation and questions of a stranger as you apply their false eyelashes to perfection, calculate how many people you have to complete in the next thirty minutes, listen out for the production team calls and assess whether you'd met the design criteria is no easy feat to achieve. Especially in a high-pressure environment.
Having a cheerful and polite disposition, along with the ability to be calm under pressure, is what everyone wants from their MUA.
How To Become A Film Makeup Artist
Film makeup artists start with a passion for learning and continually improve their skills throughout their career.
Employment on a beauty counter gives you valuable experience of delivering high-quality customer service with a smile while testing how different products work on a whole range of skin types. Testing out special effects on your friends for Halloween gets you secure in the basic techniques while also highlighting the difficulties and pitfalls to work on.
Makeup courses can be a great way to start your career but don't lose heart if it's not an option for you. Your personality, experience, and contacts are far more important.
You start by gaining experience by working for free (or expenses only). It can be on student or zero budget projects or assisting professional film makeup artists on a studio set.
Unpaid experience gives you the opportunity to establish a network and a portfolio of pictures. Build a simple but interesting website based around the pictures of your work. Link to a variety of social media accounts you have set up for your business.
Makeup Artistry Courses And Academies
Film and TV makeup artists are a niche business so courses dedicated to the craft are limited. In addition, they are expensive if they are good. The materials, premises, and tutors must all be covered. Funding subsidies are rare and limited, and in the UK only degree courses qualify for the same loan packages as other academic studies.
So why attend one? Firstly, a structured course should take you through all stages of hairdressing and barbering, film and theatre makeup, special effects and prosthetic techniques and business training.
If it's run by experienced industry professionals who are actively maintaining their contacts, you'll be placed in real projects where you can demonstrate your skills and compile an impressive portfolio. That's worth far more than several months volunteering on student films.
You just have to be very careful about picking the right course. An evening course at a local college will get you to a very different place than attending the Christine Blundell Make-Up Academy in London, for example.
Don't assume that getting a degree in make-up for film and TV is automatically the right choice, either.
You're looking for a provider who can cover all the practical, technical skills you need with high-quality training from experienced tutors, and give you extensive practice on a range of ages, skin tones, and genres, whilst also helping you build contacts and experience.
When trying to assess your training options, don't be afraid to reach out to working MUAs on social media. If they were happy with their training, they will tell you. And given the importance of networking in the industry, it doesn't hurt to start making connections at this early stage.
Film Makeup Artists Need A Driving Licence
Filming sometimes happens in a city centre location conveniently near a railway station. But the MUA is one of the first professionals to arrive on set, along with other set-up crew. You need to be ready before the first performer walks through the door.
For most jobs, you'll also be bringing in several large boxes of hair and makeup equipment.
And most filming sets are miles from public transport, tucked away in suburban homes or out in the countryside.
If you can't drive yourself to a location you'll turn down most jobs you are offered. The production team quickly picks up which people have barriers to overcome. It's easier just to go straight to the professional who can and will say yes to any job they are available for.
So if you're thinking of becoming a film makeup artist, pass your driving test and find reliable access to a car.
Film Makeup Artist Salary
You are very unlikely to receive a film and television makeup artist salary as an employee. Instead, most people are self-employed, booked job to job. So the important factor is the film makeup artist day rate, multiplied by the realistic number of days per year you can work.
You can look around for industry averages near your location. Remember that you'll sometimes have equipment provided or paid for, but this has to be agreed and specified in your contract.
Jobs near your home and low budget projects will expect you to travel to the shoot location. Again, this may be at your own expense.
Be aware that you won't be paid for any day you aren't working. It doesn't matter if you are on holiday, have the flu or just have no projects offered to you on that day. So you need to be conscious about these risks when taking out car loans or signing a rental agreement for a flat.
Also, remember to cover your tax and national insurance because you are running your own business. Employees have these deductions made from their monthly salary and paid over to the government by their employer. When you're self-employed, you get paid the gross amount and have to keep enough put by to pay your tax bill at the end of the year.
Film Makeup Artists Jobs
If you're just starting and wanting to get experience, you'll almost certainly have to work for free. It is a benefit in some ways, as it will be easier to get your foot in the door and allows you to learn on the job without the rest of the team imposing impossibly high expectations on you.
Facebook film and stage-related groups are a great place to start when looking for the unpaid film makeup artist jobs to get your portfolio underway. You can either wait for people to make a call out for an MUA, or you can put together your own post setting out who you are and the type of projects you'd like to get involved with.
Starnow is also another platform to access to find projects needing your voluntary skills. Put together a profile, but don't pay for membership until you see something of interest. You can start messaging and applying to adverts within minutes of leaving the checkout process.
Once you are ready to be paid for your skills, Mandy.com is a good place to get listed, along with The Knowledge.
But if you're keen and proficient, reliable and cheerful, you'll find clients come directly to you through repeat business and recommendations.
During quiet periods you may need to look at other sources of work to keep bringing in an income. Make friends with photographers and let them know you'd consider wedding makeup artistry and fashion shoots. At Halloween, any venue employing zombies and ghosts for their Horror Maze or Haunted Gardens will eagerly secure your services.
National Awards For Best Film Makeup Artists
Film awards boost the careers of any individual or organisation that wins them. And since the physical appearance of a performer can make or break the audience's emotional engagement with the character, it's fitting that there are now national film awards for the best makeup artist available across the globe each year.
The Make Up Gallery website is an excellent source of information about these awards. They've compiled a listing of national film awards for makeup artists available in
Europe: UK, Ireland, France, Spain, Italy, Germany, Austria, Poland, Czech Republic, Denmark, Sweden, Finland, Norway
American Continent: US, Canada, Mexico, Argentina, Brazil
Asia: India, China, Taiwan
Asian Pacific: Australia, New Zealand
Middle East
Africa: South Africa
With handy links to the relevant websites, this page is essential reading for anyone aiming high or interested in learning from the best.