There's not a great deal of paid work out there for child extras in the UK, so it is important to sign up with a good child extras agency and not pay unnecessary costs.
Before You Sign A Contract With An Agency, Consider The Costs
If you haven't already, have a read through our article Child Extras For TV And Film Work.
There isn't much work for child extras around, especially outside of the London area. But there are a LOT of children who want to do it.
You need to make sure you and your child can cope with disappointment. Your child may not be picked after an availability check. They may be picked but be cancelled before filming. Their scene may involve a crowd too far from the actors for their face to appear. The scene may be cut entirely before screening. All of these scenarios happen with every production.
If you and your child decide to go ahead and find a child extras agency – you won't get offered paid work without one – you need to keep registration costs as low as you can. Ideally, an agent will only charge a commission when your child works, but the reality is many agencies continue to charge representation fees.
Child extras earn little money but involve a lot of paperwork, so most busy extras agencies won't accept anyone under the age of 18.
A child extras agency will normally expect you to pay for annual headshot costs. Sometimes they will arrange their own photography sessions with a set fee. You need to decide if the costs are worth paying before you sign a contract. You don't get the money back if your child doesn't work.
The agencies we have listed here have a track record of placing children in films and TV programmes. This means they have the contacts and relationships to get future work for some of their clients. We have not received any financial benefit by including them here.
Productions will normally look to one child extras agency to provide all the children for a shoot. But don't jump to the conclusion that means your child will get work. It just means the casting professional for a production will consider them.
---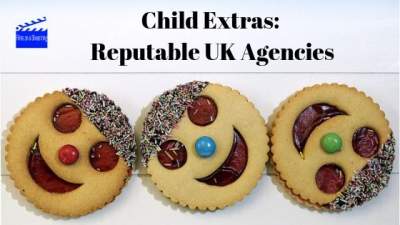 A List Of Agencies Who Represent Child Extras
The following agencies are willing to represent children who only wish to obtain work as a child extra. However, you can seek other work for your child if you are happy to engage in the casting process. Some of these agencies will offer sole representation but most do not impose this restriction.
The following agencies represent children who attend their drama classes:
Pauline Quirke Academy of Performing Arts
Strange Town Young Actor's Agency
The following agencies represent children for a wide range of work, including as child film and TV extras. Children must be available for all suitable acting, commercial, modelling and extra work, and the castings wherever they are held. These agencies offer sole representation.
Further Reading
Take a look at the articles on the Child Actors page to see how your child can get involved in the entertainment industry.