Looking for film and TV extra work? You need a good extras agency near you. Check this list of reputable extras agencies in London & across the UK.
Applying To The Best Extras Agency
Before you begin making applications to any extras agency for work as a Film and TV extra, please make sure you have read our article How To Become A Film And TV Extra In The UK to understand how the process works.
Also be aware that Film and TV extra work is sporadic and insecure, even if you are registered with the UK's best extras agencies. After all the expenses and commission payments, you will sometimes be lucky to receive the minimum wage.
This article contains a list of reputable extras agencies which have a solid reputation for obtaining work for their clients. It is not a complete listing but will give you a place to start.
If you are hoping to become an actor, rather than an extra, please head over to our acting agencies summaries. These are indexed at the top of our article Acting Agencies: Which One Is Right For You?
Extras Agents For Kids
Please note that paid extra work for children and young people who have not reached the last Friday of June following their 16th birthday can only be done once the Child Licence has been issued and a Licensed Chaperone has been appointed. Because of this, many of the agencies on this list will only accept adults and sometimes stipulate over 18s only.
If you are looking for extra work for a child or young person, please refer to our Reputable UK Child Extras Agencies page.
Extras Agencies in London
The Casting Collective. Most of the work is in London and the surrounding area, but they do also hold regional clients on their books. They also have an "urgent casting calls" page, which lists special requirements or regional locations that require additional applicants for on a temporary basis.
Mad Dog 2020 Casting. Most of their clients are available to work in London and the South East because that is where the bulk of the Film and TV extra workload is, but they also have offices in Cardiff and Manchester.
Ray Knight Casting is connected to Central Casting. Work is concentrated in London and the surrounding area. They have the occasional meet and greet events and frequently advertise specific looks that they need. They welcome emailed applications at any time; you might have a 'look' that is in demand. Their urgent castings page is used to recruit specific looks for key projects.
Universal Extras recruits extras from all across the UK including Scotland, but most of the work occurs in and around the London area. If you are a full-time student, you do not pay the annual representation fee.
Guys and Dolls Casting accepts applications from anyone living in London and the South East.
Niche Castings specialise in the supply of Ethnic Minority actors and extras.
TV & Film Extras Agencies In Manchester
Euro Kids & Adults (EKA)

Based in Manchester, EKA recruits extras from all areas of the North West and Midlands.

Lakeside Castings

are located in the Lake District with work sought across northern England.
Mad Dog 2020 Casting
TV & Film Extras Agencies In The Midlands
Celex Casting

is a well established large casting agency in the Midlands. They supply extras to the many major TV series which are filmed in Birmingham and the surrounding area.

Euro Kids & Adults (EKA)

Based in Manchester, EKA recruits extras from all areas of the North West and Midlands.
TV & Film Extras Agencies In North East England
NE1 4TV is an unusual agency because you do not pay to join or be listed; you only pay commission for work obtained through them. Also, you do not go through an application process. You compile your own profile online and immediately go live. Although most of their work happens in the North East of England, they sometimes shout out for people located in other parts of the UK.

JPM Extras

Janet Plater is a well-established actors' agency which runs a separate extras division. Most of the work is in the North East of England.
TV & Film Extras Agencies In Scotland
Rentacrowd Extras Agency is run by Alana Herron. Mainly based in Scotland, the extra work covers some film but more TV and commercials.

Real People

represent over 2,000 adults and children for work in Scotland.
TV & Film Extras Agencies In Wales
Andrea Casting is based in Wales and represents clients for a variety of work including extras for TV series.
Mad Dog 2020 Casting
Extras Agencies On We Got POP
A number of reputable extras agencies have signed up with the We Got POP platform. We Got POP has been streamlining procedures for production and casting professionals
The agencies include:
Two 10 Casting
Greenlight Casting
Catnap Casting
The Casting Network
Extra People
Sally King Casting
MSF (Military Film Services) Casting
Mixed Bag Management
Slick Casting
Ink Casting
What Is The We Got POP Platform?
A London based film technology firm runs the We Got POP platform. It streamlines the information available to and used by extras, agencies, casting professionals, and production companies. It is no longer necessary to process huge quantities of paper for the submissions, attendance and payments of Film and TV extras on set.
Pinewood Studios and a consortium of angel investors provided the growth capital for the We Got POP platform in 2016. As a result, it now operates in the UK and the US.
The extras agencies signed up to use the platform do so to allocate work to their own represented extras and to source extras for one-off pieces of work. It provides a streamlined system for availability, casting and payment events.
How Do I Join We Got POP?
You must apply to join the platform. You may do this via the We Got POP application form on an extras agency website, or directly on the We Got POP website.
It is important to wait patiently. If your looks and location suggest it will be difficult to find your work, then you will not hear anything more.
If your application is considered further, you may be invited to a registration day where you will be professionally measured and photographed. Once your application has been approved, all the registered agencies can consider you for job submissions.
You don't pay to join the platform; unless you have applied via an extras agency who levies their own joining or management charges.
We Got POP and the extras agency will both receive a commission for the work you obtained. It will be automatically deducted when you are paid. Therefore it can make a dent in the amount you receive. However, the commission payments are eligible expenses for tax purposes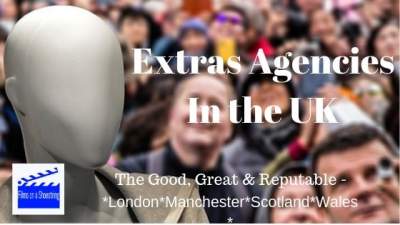 There Will Be Many More Reputable Extras Agencies In The UK
The lists we have given you above are not exhaustive. Maybe you will find some of them are a good fit for you and you obtain plenty of work through them. Perhaps you will locate excellent extras agencies in your local area who fit the bill but aren't listed here.
Just remember that it is easy to pay a joining up fee and then receive no availability checks. By checking the recent track record of an extras agency, you should be able to judge whether it is worth the joining fee or not.