Child acting agencies are the best way to launch and develop a child's acting career and help a young performer win professional work. But some talent agencies find it easier to make money from parents rather than producers. Others don't have the contacts or reputation to get their clients considered for paid child acting jobs.
On this page we help you discover a range of reputable acting agencies for kids. They represent each young actor in the genuine belief they are ready for the audition room and capable of doing a great acting job on stage or screen. Some will take a chance on a talented child just beginning their child acting career, while many of the best child acting agencies only consider a young person with experience of professional work.
Contents:
What does a child acting agency do?
A talent agent represents kids for stage, television, feature film, quality short film and commercial paid work. If the young person can dance and sing, they'll also be submitted for musical theatre auditions.
You'll often find a kids acting agency also runs a child modelling division. The child talent agency weighs up whether the young performer has a good chance of winning professional work as a child actor, child model, or both. Such is the number of applicants, that only a few receive a place on the agency books.
Some talent agents put their clients forward as child extras for feature film and television projects, but this is the exception rather than the rule.
A good talent agent only represents kids who do well in child acting auditions. So they'll always want to meet your child in circumstances reflecting real child casting workshops.
Child acting agencies assess each child performer applicant for the right combination of talent, behaviour, aptitude, and determination to succeed in the acting industry. There's no point sending a young child into an audition if they get overcome with negative emotion or throw a tantrum. So too must every child performer cope with the feelings of disappointment that can overwhelm professional actors of all ages.
---
Best Child Acting Agencies UK
This list of child acting agencies in the UK is in alphabetical order, is not a rating order, and is not exhaustive. We have not received any financial benefit from including these agencies.
Each of these agencies asks parents to pay an annual subscription to Spotlight, the UK's top casting platform. That's where many of the UK's best child acting jobs appear. Young performers can only join Spotlight via their agency. It's normal for parents to pay the Spotlight subscription, along with professional headshots, showreel, acting classes, and travel costs to each audition.
A casting director generally holds auditions in London, or to a lesser extent, Manchester. Other locations depend on the production's needs. Increasing use of a self tape instead of a first audition means learning lots of new skills but less travel time.
1) Abacus Agency
Run by a team who have trained and worked in the performing industry, this agency runs Abacus Agency for children and ABA management for adults.
Read more in our article about the Abacus Agency.
2) A&J Artists
Founded in 1984, this well-established agency has a twitter feed of impressive recent credits.
Rebranded from A&J Management to A&J Artists in 2019.
Find out more in our article A&J Artists.
A young boutique agency already attracting child actors with great experience and positive feedback from happy parents. Run by a parent with substantial experience of supporting child performers.
Applicants who may be suitable for the agency's books will be invited to audition.
4) Alphabet Kidz
5) Ardent Talent
Started in 2017 by an experienced agent and parent of a very successful child actor.
Find out more in our article about the Ardent Talent Agency.
6) Bonnie and Betty Model and Casting Agency  
Established in 2009 with a northern division opened in 2013, this leading agency represents children for a variety of acting, extra and modelling work.
Read our article about the Bonnie and Betty model and casting agency.
7) BAM Kidz
BAM Kids is the child actor and young performers division of Brown and Mills Entertainment Ltd.
They accept clients for their roster from the age of 4.
Their twitter feed publicises castings with a professional photograph of the selected performer.
Find out more in our article about BAM Kidz
Running alongside a stage school, the agency accepts applications from children all over the country.
Read the applications process carefully if you'd like to be considered for the next round of auditions.
9) Daisy And Dukes
This agency specialises in babies, children and young performers.
They accept applications from around the UK but you must be willing to travel.
Find out more in our article about Daisy And Dukes.
10) Dee Boss Talent Management
Dee Boss Talent Management was started in 2016, representing both children and adults.
The website offers a dedicated application page for those wishing to join the agency.
Their Twitter feed is daily updated with news of castings and booked jobs, with a lot of supporting comments between represented actors.
Find out more about this agency in our article on Dee Boss Talent Management.
11) Hashtag Talent Agency
Run by two mums who understand the industry from a child and parent's point of view as well as an agent's side.
Find out more in our article about the Hashtag Talent Agency.
12) Hero Talent Group  
The Hero Talent Group is a boutique agency representing young actors from around the UK.
It's a young agency but the team has more than 50 years of industry experience, in a broad range of expertise.
Their news page and twitter feed show their busy clients working on top West End shows and also popular TV programmes.
Find out more in our article about Hero Talent Group.
13) Mad Fish Management  
Based in East Sussex, this established agency represents children and young people from around the UK.
Find out more about them in our article about Mad Fish Management.
14) Mark Jermin Management  
Adults and child actors;
Applications considered from around the UK;
They specialise in up and coming talent;
Range of work including TV, voiceovers and extras;
Read more in our article on Mark Jermin Management.
15) Mondi Associates Ltd   
This London based agency has an adult division and a separate Young Performers division.
Find out more in our article about Mondi Associates.
16) Ology Kids Casting  
This agency is based in North West England. It represents children and young people to the age of 21.
You can find out more in our article about Ology Kids Casting.
17) PD Management  
London-based talent agency representing 4 to 18 year old actors and music theatre performers.
You will find the audition dates advertised on their website, therefore you and your child will have plenty of preparation time.
Find out more in our article about PD Management.
18) Purple Giraff Talent Agency
Opened in Cheshire in 2016, this small agency has already got its clients into major productions.
Find out more about joining this agency on our Purple Giraffe Talent Agency page.
Based in Northern Ireland
Represents young actors in Belfast, Dublin, and London
Founded by the Principal of The Pamela Cassells School of Performance
Established agency opened more than five years ago
Busy Facebook page  
Auditions for potential new clients
Workshops and training offered throughout the year
20) Top Talent Agency  
Started in 2008, this agency represents performers from around the UK.
It now runs as two divisions; Top Talent Adults and Top Talent Kids.
Read more in our article about Top Talent Agency.
---
TV show "Under Age & On The Stage" looked at the work of UK talent and model agency BizzyKids and followed progress of some of their child actors and child models.
---
Quality US Talent Agencies for Kids
This page was created for UK child actors, but we also receive a lot of requests for information from the families of kid actors in the US.
Therefore, we've added some reputable agencies to get your search started.
Begin with an acting agency in your home state which accepts local talented children and teens. Make sure they attend regular acting class and build up experience of auditioning and working in the performing arts field.
The top talent agencies in Los Angeles and New York usually take on a young performer after they've built up an impressive resume. If you're living in another state, a referral from an acting agency your kid has outgrown also helps, but you'll take on a heavy travel commitment to long distance auditions.
This list of the best US Talent agencies for kids is not in order of ranking, and is not exhaustive. There are many other good options out there too, but keep an eye on the money talent agents ask for – especially if you didn't know in advance of being offered representation or entry lacks strict selection.
A3 Artists Agency Youth Division
Offices in London, Los Angeles and New York
Formerly Abrams Artists Agency, which was founded in 1977
Talent and literary agency
Represent performers, filmmakers, and influencers
Includes a Youth Division
The A3 Artists Agency does not accept unsolicited material.
AEFH Talent Agents 
Offices in Los Angeles
Amsel, Eisenstadt , Frazier & Hinojosa Talent Agency
Division for adult, young adult (aged 18-late 20s) and youth (aged 5-18) performers
Film, television and commercials
First established in 1975, rebranding when company partners changed 
ATA, SAG, AFTRA & Indie work in LA and New York
Fresh faces and established young actors
Submissions by mail or online
Include headshot and resume
Postcards and invitations accepted
No phone calls or personal visits to apply or follow up
Beth Stein & Associates (BSA)
Successful boutique talent agency in West Hollywood
Representing actors and child performers 
TV/Film/Commercials
Founded more than 25 years ago
Owned and run by former actress Stacy Solodkin
Books strictly closed to submissions unless contact page indicated otherwise
Brevard Talent Group (BTG)
Located in Orlando, Florida
Represents adult actors, teen performers, and child actors aged 5+
Does NOT represent models or voice-over artists
Follow Brevard Talent Group news on Facebook
Applications accepted from new faces and established actors
No applications by phone, personal visits or email
Apply by regular mail
Include your headshot, resume, email address and phone number
The agency will contact you if interested in meeting you, so don't follow up
Buchwald
Offices in Los Angeles and New York
Founded by Don Buchwald and five associates in 1977
Don Buchwald & Associates rebranded as Buchwald
Large but highly selective leading agency
departments in Broadcast, Comedy, Commercial, LA Commercial, NY Commercial, Print NY, Digital & Branded Lifestyle, Emerging Talent, Film, Theatre & TV, Literary & Intellectual Property (scripted & unscripted), Social Media Influencer Talent, Sports, and Voiceover
Follow Buchwald on Instagram
Buchwald does not accept unsolicited submissions of any kind
CESD Talent Agency
Offices in Los Angeles and New York
Acting and modelling agency with more than thirty agents
Departments: Theatrical, On Camera (Celebrity, comedy, commercial, dance, motion capture, youth commercial), Voice Over (animation, celebrity, commercial, conventions, espanol, gaming, narration, promo, puppeteers, radio imaging, trailer, TV affiliates, youth animation) and Print (models)
Cunningham & Associates was founded more than 50 years ago. Then in 2005 the agency rebranded as CESD (Cunningham-Escott-Slevin-Doherty) Talent Agency.
Child actors and teenage actors represented for more than 35 years
All submissions via the email address on the website
State whether you are submitting to the Los Angeles OR New York Office, and which department(s) should see your application – that team will then review it
Include contact phone number and email address, and briefly explain your submission
Add a LINK to your portfolio and/or website
Voice demo – include a LINK and not sound file attachments
Except for voice over, attach 1-2 photos plus CV
No follow up calls – if they are interested, they'll be in touch
The Clutts Agency
Based in Dallas, Texas
Full service, SAG/AFTRA franchised agency
Represents children, teens and adults
Stylists, Print, Talent, Kids Print & Talent, Teens Print & Talent 
Agency founded by John Clutts in 1997, youth division opened 2003
Follow the Clutts Agency news on Facebook
Submit via the Clutts Agency Representation page
Pay close attention to the information and pictures required 
Coast to Coast Talent Group, Inc.
Leading full-service talent agency in Hollywood Knolls
Founded in 1987
Youth Division, Adult Theatrical, On-Camera Commercial, Print, Voice Over, and Social Media divisions
Promoted and represented three child Academy Award Nominees
Send Coast to Coast Talent Group submissions for representation only by mail. Include headshot and resume. No personal visits unless invited for an appointment, no emails and no phone calls. Accepts postcards and invitations.
DDO Artists Agency
Offices in Los Angeles, New York and Chicago
Founded in 1969 by Dorothy Day Otis, initially focussing on child actors in Hollywood
Later expanded to represent adult and child performers
Commercial, TV, Film, Voice-Over , Print, Theater, Hosting, and Sports & Specialty
Apply for representation by mail or via the correct email for your age and location – see the list on the DDO Artists Agency submit page
Include a headshot, resume, plus a covering letter listing experience, training and industry referrals
No phone calls or personal visits accepted
Every submission is reviewed, but only those of interest will be followed up (within six weeks)
Hutson Talent Agency
Based in Portsmouth, Virginia
Representing both union and non-union talent
Founded by experienced actress and teacher Sylvia Hutson and supported by a team with years of industry experience
Follow the Hutson Talent Agency on Facebook for news and unusual casting breakdowns
To apply, fill out the form on the New Faces page and attach links to your headshot and resume
If Hutson Talent Agency is interested, they'll be in touch.
No personal visits or phone calls to apply or follow up
Jordan, Gill & Dornbaum Talent Agency, Inc.
Based in New York city
Represents talent living in New York, New Jersey, Connecticut, and Pennsylvania
Full service boutique agency
Represent union (Screen Actors Guild (SAG), American Federation of Television & Radio Artist (AFTRA), Actors Equity Association (AEA)) and non-union talent
No upfront fees, only charges commission on paid work
Agency started in 1965, last rebranding to Jordan, Gill & Dornbaum Talent Agency in 1990
Started as a children's acting agency, then expanded
Robin Dornbaum represents 4 years olds to young adults for On Camera Commercials
Jeff Gill represents talent from the age of 4 to young adults for work in television,  episodics, feature film, and stage and theatre performances
Apply for representation by traditional mail only to their Broadway offices
Include headshot, resume and additional material
Demonstrate some experience in performing and taking directions, listing acting and voice training.
You may also send invitations to NY events where you'll be performing
Strictly no emails, phone calls or in person visits for application or follow up
KU Talent Agency
Based in Raleigh, North Carolina
Full service talent agency
Southeastern-based actors and models aged 4 and up
Film, television, commercial, industrial, voice-over, and print
Founder Terri Dollar established Kids Unlimited Talent in 1997, Julie ter Avest joined in 2006
Kids Unlimited Talent became KU Talent Agency, representing adults as well as children
Follow KU Talent Agency on Facebook
Apply via the KU Talent submission form – you get one shot so provide good links and easy to digest key information
Major Minors Management
Los Angeles management exclusively represents young talent
Newborn babies, child actors and young performers
Also represents actors over the age of 18 who can play younger
Established by Alex Morawec more than two decades ago
Divisions in film, television, commercial, print and voiceover
The submit page shows whether the books are currently open to new clients
Only apply if you live within 2 hours of Los Angeles, unless out of state applications are specifically invited
You are committing to 2-3 auditions every week. Casting directors may not call your child as often, but the message is clear – this is a job commitment and not a flexible hobby for your child!
You can email a submission, but it must be posted and the material won't be returned. 
Emails to the address on the submission page, with "Possible Representation" in the subject line
All submissions must include: name of child, date of birth, hair color, eye color, height, weight, clothing size, contact info including parent name, cell phone, and email address.
Professional headshot, resume, and showreel prefered
Include relevant links – IMDB, Actors Access, LA Casting, etc
If starting out, 1-2 close up colour photos and a full body shot or two. Natural, no other people, props or distractions. In focus, with your child looking at the camera.
If you don't hear back, try again in six months
Don't make personal visits or phone calls about submission or follow up
MDT Talent Inc.
Based in San Francisco
Talent must live within two hours of San Francisco
SAG-AFTRA talent agency representing union and non-union talent
Represents actors, child actors, models, baby models, child models, voice over artists, kids voiceover, and real families
commercials, print work, fit modeling, voiceovers, industrials, motion pictures, and conventions/live presentations
Established as Marla Dell Talent Agency in 1988
Owned by Michelle Mokalla since 2012, when it was renamed MDT Talent Inc.
Follow MDT Talent on Instagram and Facebook
Apply via the 'Be Discovered' page
Carefully follow the instructions about information and supporting material required, including the size of attachments etc
Osbrink Talent Agency
Prestigious and boutique talent agency in Los Angeles
Established by award winning talent agent Cindy Osbrink in 1993, and led by managers who joined the agency many years ago
Receives referrals from regional talent agencies about their leading clients ready for national representation
Acting, voice acting and modelling clients work in film, television, commercials, voiceover, and print
Some clients went on to win Oscar and Golden Globe awards
Submit via the dedicated website, attaching all requested links to headshots, CV, showreel and voice demo reel
If they are interested, a response should arrive within three weeks
You won't hear if they aren't interested, and you must not follow up with a phone call
Stewart Talent
offices in Atlanta, Chicago, Los Angeles and New York
offer dedicated, comprehensive talent representation with an expertise in all four major US markets
Represents adults and children 
all areas of television, film, theatre, voice-over, commercial, print, industrial, theatrical directors, and stylists
Jane Stewart founded Stewart Talent more than 35 years ago
Follow Stewart Talent news on Facebook
See the Stewart Talent website to discover which offices and divisions are closed or open to submissions, and to which type of talent – it's not a one size fits all
If applications are invited, carefully follow the instructions about personal information, headshot, resume, and reel 
Depending on the office and division instructions, send your submission via mail, email or complete the application form, or get an appropriate industry person to make a referral
---
Find other good child acting agencies
The lists above are not exhaustive. Plus, every year sees the launch, sale, rebranding or closure of many talent agencies. That's actually good, because you need plenty of choice when trying to find the best agent for your child at each stage of their acting career.When investigating the agencies listed above, you'll pick up a good idea of what signals a reputable and successful children's acting agency. Importantly, you'll learn how to spot a fake agency, no matter how slick their marketing. So when you consider an agency not listed here, you know what to look for.
Some suggestions from the NAPM forum are the PHA Model and Casting Agency, Lime Actors Agency and Management, Amber Personal Management, and Urban Talent Actors Management.
Also consider children's acting agencies which represent the young performers attending their classes, SOME of which accept external applications too. In the UK, they include:
For more UK options, we've summarised information about hundreds of acting agencies in London and across the UK. The number of acting agencies in the list that have ceased trading gives you an idea of how hard it is for performers to book paid professional work and, moreover, for agents to run successfully and profitably on acting commissions.
Acting Agencies Around The UK:
But do always double-check each agency's track record and recent history because staff change, businesses are sold to new owners and representation fees can appear overnight.
Acting Agencies In South East England
Acting Agencies In South West England
Acting Agencies In Central England
Acting Agencies In North West England
Acting Agencies In North East England
Acting Agencies In Northern Ireland
Before You Apply To Child Acting Agencies
There are a LOT of talent agencies who represent kids and young performers, and more pop up each year. You really must understand what you are committing your family and money to, because an acting career is not cheap or easy.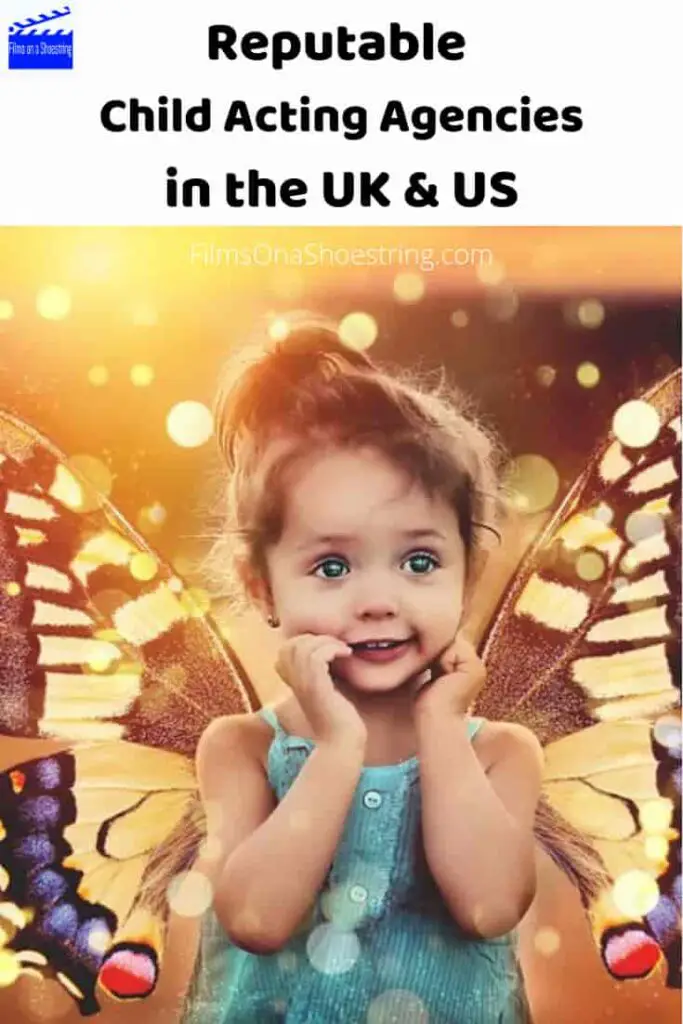 Find out more in these articles:
If regular last-minute trips to London or LA for castings don't sound possible for your family circumstances and budget, then an alternative option is to find a suitable child extras agency instead of the child acting agencies in this article.
Talent agencies are a matter of personal choice, so some you will like and others you won't. Even in the best children's acting agencies in the UK and US, some child actors will get invited to many castings, while the majority meet a casting director once in a blue moon. Whether you receive a personal recommendation for an agency will depend on which family you speak to.
Child Acting Agency Assessments
For both adults and children acting agents are the best way to access acting auditions with top casting directors. Therefore, quality acting agencies meet all talent before offering representation. Children under three are the general exception.
Agents need to assess each child performer for their acting technique, audition technique, and behaviour around other kids and adults. A young child will be asked to play drama games and sing a song. Older children and teenagers will play group drama games too, but also recite a monologue or poem.
Talent agents also have an eye on the parenting skill evident at these events. Parents must get acting talent to auditions and work locations on time, with the right clothes and equipment, and all license paperwork completed, without drama or high emotion. They are the support structure behind the young professional actors. The slightest hint that you're disorganised or likely to throw a tantrum over acting industry demands (there are many, they can be onerous) is a red flag to the agent.
Fees And Commission
While it is becoming increasingly common for agencies in the UK to charge an annual fee in addition to the commission on paid work, the amount should not be excessive. You already have to cover numerous costs including casting platform subscriptions, headshots, showreel, drama classes and audition travel costs.
In particular, note how much money parents are asked to pay up front – especially if these costs aren't clearly shown on the website.
The point of being a talent agent is to get performers one acting job after another and earn commission on that work. So be wary if other sources of income are being generated instead.
Child Actor Training
Meanwhile, all young performers should train continuously.
Acting Auditions UK For Under 16s
The best acting jobs for kids are found via good talent agents. But even without them it's possible to find acting auditions for under 16s.
The best child acting agencies in the UK are permitted to register their represented children and young adults with Spotlight. This will be used to submit young actors for premium film and TV roles.
But your kid can join one of the other UK casting websites without being represented by an agency for child actors.
Or, keep an eye out for actor roles added to Facebook filmmaking groups by local student filmmakers and hobbyists. These will be low or unpaid roles and usually for a short film intended for film festivals. It's a good way to build up experience (for you and your child) and obtain a first showreel.
If you're on Twitter, paid opportunities crop up in news feeds each day. CurtainCallKidz (@Kidzcall) is a great account to follow because it's run by a seasoned stage mum who is also a licensed chaperone. You'll find open casting calls and great tips about the world of child acting. Also, it's a good place to network with other families going through the same highs and lows of child acting life as you.
Auditions for Musical Theatre roles for children are normally open to everyone who meets the brief, whether represented by an agent or not. Sometimes open auditions mean everyone can turn up and stand in line.
However, top casting directors such as Jo Hawes and Jessica Ronane normally receive online applications and then invite selected children to audition.
Meanwhile Keston and Keston, the elite management team behind Stagebox Musical Theatre and Management, offer a free casting app for audition opportunities.
Child Employment Law
No matter how you find auditions and work for your child, their safety comes first. Therefore, never forget the important and legal requirements of the Child Performance Licensing laws. Each State in the US also has their own laws.
Join The 'Not A Pushy Mum' Forum
This page listed UK child acting agencies popular with contributors to the Not A Pushy Mum forum. It's a good place to get real life insights and answers to tricky questions.
Begin by sitting down to read through some of the posts, especially in the agencies section – it will take you hours but you will have a clearer idea of what your next move should be.
Child Acting Agencies Near Me
If you have done your research, you will know that in the UK it does not matter if your child talent agency is located near to your home. Most UK acting auditions for paid roles in film and TV take place in London. Manchester is also a popular casting base. Auditions elsewhere are the exception rather than the norm. That's why so many children's acting agencies are in London and Manchester.
The matter is different for Extra work, also known as Support Artist or Background Artist work. Children working in this area are expected to live within 90 minutes of the set. Only some child casting agencies represent children for extra work. In addition, if you approach a specialist extras agency first check they represent children.
Meanwhile in the US, you're expected to live in the same state as your acting agent. It's an exception at the top end, when the actor's name carries weight. But auditions in Los Angeles and New York are difficult to attend on a regular basis unless you live there.
Child Extras Agencies
Children acting on stage and screen attend rounds of auditions for each and every role. In the UK, child extras, working in the background of TV shows and feature films, are normally chosen from their headshots.
Find more articles about child acting on the Child Actors page.
No advertising or sponsorship money has been received from any of the agencies listed. Instead, clicks on the third-party adverts pay the running costs for this site.