Child actors have a bewildering array of talent agencies on offer. But they aren't all equal. We list 20 reputable agencies that are frequently recommended by parents.
Contents:
Before You Apply To Child Acting Agencies
There are a LOT of talent agencies who represent child actors, and more pop up each year. Before you actually apply, read our article about how to become a child actor because you must really understand what you are committing your family and money to. Getting your child into acting is not easy.
If last-minute trips to London for castings don't sound possible for your family circumstances and budget, then an alternative option is to find a suitable child extras agency instead of the acting agencies in this article.
Agencies are a matter of personal choice, so some you will like and others you won't. Even in the best children's acting agencies in the UK, some child actors will get invited to many castings, while the majority meet casting directors once in a blue moon. Whether you receive a personal recommendation for an agency will depend on which family you speak to.
However, do take note of how much money parents are asked to pay up front – especially if these costs aren't clearly shown on the website. Whilst it is normal to pay an annual fee to be on an acting agent's books in addition to all the other fees, it should not be excessive. The point of being an agent is to make money from the commission when the client receives paid work, so be wary if other sources of income are being generated instead.
There are some scam or fake agencies out there, but if you do your research you'll learn to spot the warning signs.
Regular Training Definitely Helps
Meanwhile, all young performers should train continuously. Singing and dance lessons for children interested in Musical Theatre. Drama lessons or youth theatre for the experience of acting on stage. Musical instruments, football horse riding, bike stunts, and sailing skills also crop up on casting director briefs.
Acting Auditions UK For Under 16s
The best child acting agencies in the UK are permitted to register their represented children and young adults with Spotlight. This will be used to submit young actors for premium film and TV roles.
But you can join one of the other UK casting websites without being represented by a children's acting agency. Or, keep an eye out for roles added to Facebook filmmaking groups by local student and microbudget filmmakers. These will be low or unpaid roles and usually for short films intended for film festivals. It's a good way to build up experience (for you and your child) and obtain showreel.
Musical Theatre roles for children are normally open to everyone who meets the brief, whether represented by an agent or not. Sometimes open auditions mean everyone can turn up and stand in line. However, casting directors normally require an online application and then invite selected children to audition.
Just never forget the important and legal requirements of the Child Performance Licensing laws.
Join The 'Not A Pushy Mum' Forum
This list includes child acting agencies which are popular with contributors on the Not A Pushy Mum forum and therefore are tried and tested. Please join this forum so that you avoid common pitfalls and mistakes.
Begin by sitting down to read through some of the posts, especially in the agencies section – it will take you hours but you will have a clearer idea of what your next move should be. If you sign up as a member you can ask for advice if using the search button doesn't answer a question you have, and you can join in the celebrations when someone shares their child's hard-won achievement.
Child Acting Agencies Near Me
If you have done your research, you will know that it does not matter if your child talent agency is located near to your home. In the UK, most acting auditions for paid roles in film and TV take place in London. Manchester is also a popular casting base. Auditions elsewhere are the exception rather than the norm. That's why so many children's acting agencies are in London and Manchester.
The matter is different for Extra work, also known as Support Artist or Background Artist work. Children working in this area are expected to live within 90 minutes of the set. Only some child casting agencies represent children for extra work. In addition, if you approach a specialist extras agency first check they represent children.
The List Of 20 Reputable UK Agencies For Child Actors
This list of agencies is in alphabetical order and is not a rating order. We have not received any financial benefit from including these agencies.
They all represent child actors for TV and Film work, theatre, commercials, voiceovers and sometimes modelling. Their talent will be asked to join (and pay for) Spotlight so they can be submitted for the most select opportunities that arise. Other acting agencies for kids are available, and if you have spent enough time looking at these listed sites you will have grasped an idea of what to look for in your continuing searches.
Run by a team who have trained and worked in the performing industry, this agency runs Abacus Agency for children and ABA management for adults.
Read more in our article about the Abacus Agency.
Founded in 1985, this well-established agency has a twitter feed of impressive recent credits.
Find out more in our article A&J Management.
A young boutique agency already attracting child actors with great experience and positive feedback from happy parents. Run by a parent with substantial experience of supporting child performers.
Applicants who may be suitable for the agency's books will be invited to audition.
Started in 2017 by an experienced agent and parent of a very successful child actor.
Find out more in our article about the Ardent Talent Agency.
Established in 2009 with a northern division opened in 2013, this leading agency represents children for a variety of acting, extra and modelling work.
Read our article about the Bonnie & Betty model and casting agency.
The clients' pictures and names are available on the website; some people may feel uncomfortable about it and others will see it as great advertising for their child.
Their twitter feed publicises castings with a professional photograph of the selected child.
Running alongside a stage school, the agency accepts applications from children all over the country.
Read the applications process carefully if you'd like to be considered for the next round of auditions.
This agency specialises in babies, children and young performers.
They accept applications from around the UK but you must be willing to travel.
Dee Boss Talent Management was started in 2016, representing both children and adults.
The website offers a dedicated application page for those wishing to join the agency.
Their Twitter feed is daily updated with news of castings and booked jobs, with a lot of supporting comments between represented actors.
Find out more about this agency in our article on Dee Boss Talent Management.
Run by two mums who understand the industry from a child and parent's point of view as well as an agent's side.
Find out more in our article about the Hashtag Talent Agency.
The Hero Talent Group is a boutique agency representing young actors from around the UK.
It's a young agency but the team has more than 50 years of industry experience, in a broad range of expertise.
Their news page and twitter feed show their busy clients working on top West End shows and also popular TV programmes.
Find out more in our article about Hero Talent Group.
Based in East Sussex, this established agency represents children and young people from around the UK.
Find out more about them in our article about Mad Fish Management.
Adults and child actors;
Applications considered from around the UK;
They specialise in up and coming talent;
Range of work including TV, voiceovers and extras;
Read more in our article on Mark Jermin Management.
This London based agency has an adult division and a separate Young Performers division.
Find out more in our article about Mondi Associates.
This agency is based in North West England. It represents children and young people to the age of 21.
You can find out more in our article about Ology Kids Casting.
From the news page, you can see their busy clients.
You will find the audition dates advertised on their website, therefore you and your child will have plenty of preparation time.
Opened in Cheshire in 2016, this small agency has already got its clients into major productions.
Signature Models and Acting Agency started in 2013 and relaunched under new management in 2016.
The website includes a lot of helpful information to support parents entering the world of child modelling and acting. You will find this under the 'info' tab.
Furthermore, you will find news of open books, submissions, casting and job news on their Facebook page.
Started in 2008, this agency represents performers from around the UK.
It now runs as two divisions; Top Talent Adults and Top Talent Kids.
Read more in our article about Top Talent Agency.
Other Good Agencies For Child Actors Exist Across The UK
Once you have investigated the agencies listed above, you will have a good idea of what signals a reputable and successful talent agency and how to spot a fake agency. So when you consider an agency not listed here, you know what to look for.
Some suggestions from the NAPM forum are the PHA Model and Casting Agency, Lime Actors Agency and Management, Amber Personal Management, and Urban Talent Actors Management.
You may also consider agencies which represent the young performers attending their classes, some of which accept external applications too. They include:
For more options, we've summarised information about hundreds of agencies across the UK. The number of acting agencies that have ceased trading gives you an idea of how hard it is for performers to book paid work and for agents to run successfully and profitably.
Acting Agencies In London:
A B C D E F G H I J K L M N O P Q R S T U V W X Y Z Numerical
Acting Agencies Around The UK:
But do always double-check each agency's track record and recent history because staff change, businesses are sold to new owners and representation fees can appear overnight.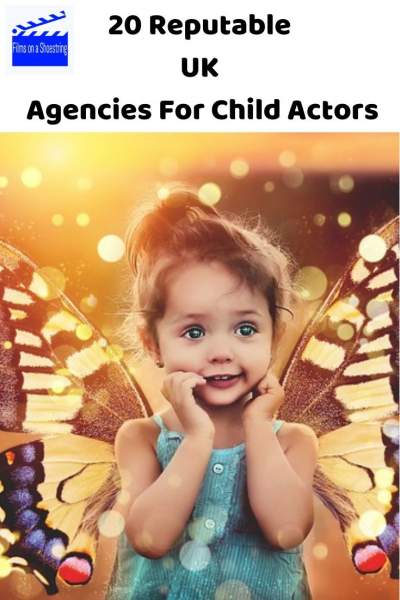 Don't Forget Child Extras Agencies
There are a number of agencies whose main focus is Child Extra work (supplying child supporting artistes for film and TV). Some of them will also register interested clients onto the Spotlight directory and submit clients for the acting roles listed there.
Read our article about child extras agencies for more information.
Advice For All Teenage Actors
This section is aimed at teenagers. If you're independently applying for acting work and your parents don't have industry experience, you might not understand the expectations and risks you face.
The Number 1 Rule: Stay Safe
There are all sorts of ways you can get hurt when you are starting your acting career. Whether you are asked to climb a tree, find yourself alone in a room with an adult, or spend the day filming in the sun without drinking enough water, you need to recognise the risks and be confident enough to take action and keep yourself safe.
You also need to remember your own responsibility for keeping other people safe. Wait quietly in one area of the set when asked. Moving props, pulling at wires, moving equipment in an effort 'to help', and even simply getting in the way makes the environment dangerous for you and everyone around you.
It is part of UK law that all young performers must have a child performance licence for each job until they reach the last Friday of June following their 16th birthday. There are very few exceptions to this.
However, many micro-budget and student filmmakers are unaware of the law or don't apply it, especially for teenage actors. Yet you can only be on set when it's legal for you to be there.
If you are going along as a volunteer, have the filmmakers got insurance? Most people don't ask. But what if an accident happens on set? The lack of insurance is suddenly very important.
Don't Get Caught By Scam Agencies
You'll see above the list of 20 Reputable Agencies For UK Child Actors. Nearly all of them represent young performers to the age of 21 or 25, and others also represent adults. They make a good starting point for teenage actors who can afford the time and money to attend auditions in London, where most of the work is.
Carefully consider requests for money. Ideally, no representation fee applies. If the agency has a representation fee and clearly states it on their website cannot be accused of being underhand. Those agencies charging fees only during the representation process should really reconsider what they are doing.
£50 is a risk but an affordable one for most people applying, given the more daunting costs of getting to last-minute Soho castings. Any more, and you have to assume the agency isn't receiving enough commission income from working actors.
Please spend a few minutes reading our article about fake agencies. It will help you spot the danger signs.
Many extras agencies charge fees to represent you because the payment for work is low – that should make you ask why you want to do it. Extra work is NOT a route into acting work.
The Costs You Can't Avoid
Photographs are essential for gaining work. All actors pay for their own annual headshots. An agent's own photographer will cost about £50. A private photographer will cost about £150. A top photographer may cost £250 upwards – but you don't need a private session with a top photographer to start out.
Showreel is now an essential tool used by casting directors when choosing who to audition. (Do you know what a casting director does or how important they are for your career?)
You can pay a small fortune for showreel but it isn't necessary.
Instead, get experience on a microbudget film shoot which will hopefully lead to showreel after a few months. You can find some in your area through Facebook filmmaking groups. However, some filmmakers are unreliable, many never complete the post-production, and others are perfectionists who take years to complete a project.
Meanwhile, film a well acted monologue on your phone. Sit in a chair, light your face well, and act your heart out with a well chosen two minute monologue. When you are starting out, that is enough.
Paying For Casting Websites
A good agent will register you with Spotlight but you will be asked to pay the annual membership fees. For a young performer in 2018, that starts at £98 a year. Disabled young performers receive a discount.
There are also other casting websites that your agent may recommend you join. You can sign up to some of these even if you don't have an agent, and most offer a free trial. If you don't see suitable jobs listed, you can convert to a basic free profile until something interesting appears.
Teenage Actors – Be Responsible
Once you are accepted by an agency, you will be submitted for work for every brief you fit. If the casting director selects you from the hundreds or thousands of applicants, you will be asked to do a self-tape.
Record your self-tape on your phone, in landscape. You need a neutral background, no interruptions, and you should make an effort to look good for the part. You'll need to spend time reading the sides (the script excerpt) and developing your character. Then you send the files, correctly named, often through WeTransfer – which can take a couple of hours.
But here's the thing: you will frequently be asked to complete and send the self-tape on the same day as you receive the request.
So whatever else you are doing, you suddenly have a three-hour job to fit in and complete by the deadline.
Similarly, it's important to arrive at the right time in the right place – without exception – for every single casting (audition). Casting directors hate actors who don't turn up – which happens all the time – and they often bar them from future work. So you must be reliable and flexible, and yet somehow also have the money to pay for last-minute train fares.
Meanwhile, all teenage actors must stay away from drugs, smoking, heavy drinking, and too much sun. The more you look after your skin and teeth, keep fit and healthy, and develop your interests, the more your physical attributes and special skills will help you gain work.
Look After Your Mental Health
The entertainment industry is brutal. Reputable agents carefully select only a small number of teenage actors who apply to them. Most get rejected. And that's just to get to the starting post of applying for jobs.
For every advertised brief there may be thousands of applicants. Only one person gets the job.
Every time, you go to through the process of learning lines, paying for travel, getting your hair done, selecting an outfit, and suffering hours of nerves. Then comes silence. You have no idea if you are about to get another call to appear in central London tomorrow afternoon, or have already been discarded. Casting directors rarely inform unlucky applicants. Eventually, you find out who got the job, and you wonder why it wasn't you, whether you did something wrong or chose the wrong outfit.
Then you repeat that process. Again, and again and again.
If you work hard, are reliable and keep developing your talent, you will book jobs. But most of the time you will have to cope with silence.
So you need good, robust mental health wellbeing methods to cope. Learn to accept that it wasn't a personal rejection, it was just someone else was right for that brief. Assess what went well and what didn't so you can improve on next time, but then move on.
When To Stop Acting Work
Learn to recognise the signs of depression, anxiety, and mental illness, in case they start to affect you.
If this process is damaging to your mental health, find another career which makes you feel good about yourself. You can always use your spare time to join one of the amateur dramatic societies which belong to The Little Theatre Guild or apply to a local Youth Theatre which takes older members. A lot of them give professional performances and even attend national festivals. That way you fulfill your need to perform in an affordable and healthy way.
Run Away From The Word 'Famous'
If someone offers to help you become a famous actor, that's a big red flag telling you to run. Acting is a hard and badly paid career. Only a few lucky people make it big, and that is usually after years of hard graft. If someone is selling you the promise of being famous, they are trying to get your money.
You will never, ever find a genuine acting agency promising to make teenage actors famous. It's hard enough to find enough work to cover your costs.
Even adults fall for well known and well-publicised scams on a daily basis, in huge numbers. So do not feel ashamed if you are a victim. You will not get your money back, but contact the trading standards team at your local council. They investigate scams and need people to report criminal activity. Be brave, so you can help keep other teenage actors safe from harm.
Finally, Some Words Of Support
All positive experiences will help you grow as a person. You will learn a wide range of skills from an active attempt to book acting work, useful even if you follow another career path soon after. Work hard, try your best, and keep developing. Good luck!
This article was last updated in May 2019. No advertising or sponsorship money has been received from any of the agencies listed. Instead, clicks on the third-party adverts supplied by Google Adsense are used to pay the running costs for this site.
Our Home page sets out the sitemap of this website, signposting our key articles.