Child actors have a bewildering array of talent agencies on offer. But they aren't all equal. We list 20 reputable agencies that are frequently recommended by parents.
Contents:
Before You Apply To Child Acting Agencies
There are a LOT of talent agencies who represent child actors, and more pop up each year. Before you actually apply, read our articles about how to become a child actor and how to become a teenage actor. You must really understand what you are committing your family and money to because an acting career is not cheap or easy.
If last-minute trips to London for castings don't sound possible for your family circumstances and budget, then an alternative option is to find a suitable child extras agency instead of the acting agencies in this article.
Agencies are a matter of personal choice, so some you will like and others you won't. Even in the best children's acting agencies in the UK, some child actors will get invited to many castings, while the majority meet casting directors once in a blue moon. Whether you receive a personal recommendation for an agency will depend on which family you speak to.
Fees And Commission
However, do take note of how much money parents are asked to pay up front – especially if these costs aren't clearly shown on the website.
Whilst it is becoming normal for agencies to charge an annual fee in addition to the commission on paid work, the fee should not be excessive.
The point of being a talent agent is to get performers paid jobs and earn commission on that work. So be wary if other sources of income are being generated instead.
There are some scams out there, but if you do your research you'll learn to spot the warning signs of a fake agency.
Regular Training Definitely Helps
Meanwhile, all young performers should train continuously.
Singing and dance lessons for children interested in Musical Theatre
Drama lessons or youth theatre for the experience of acting on stage
Musical instruments, football horse riding, bike stunts, and sailing skills also crop up on casting director briefs
Acting Auditions UK For Under 16s
The best child acting agencies in the UK are permitted to register their represented children and young adults with Spotlight. This will be used to submit young actors for premium film and TV roles.
But you can join one of the other UK casting websites without being represented by a children's acting agency.
Or, keep an eye out for roles added to Facebook filmmaking groups by local student and microbudget filmmakers. These will be low or unpaid roles and usually for short films intended for film festivals. It's a good way to build up experience (for you and your child) and obtain showreel.
If you're on twitter, you'll find a few paid opportunities cropping up in news feeds each day. CurtainCallKidz (@Kidzcall) is a great account to follow because it's run by a seasoned stage mum who is also a licensed chaperone. You'll find open casting calls and great tips about the world of child acting. Also, it's a good place to network with other families going through the same highs and lows of child acting life as you.
Auditions for Musical Theatre roles for children are normally open to everyone who meets the brief, whether represented by an agent or not. Sometimes open auditions mean everyone can turn up and stand in line.
However, top casting directors such as Jo Hawes and Jessica Ronane normally receive online applications and then invite selected children to audition.
Meanwhile Keston and Keston, the elite management team behind Stagebox Musical Theatre and Management, offer a free casting app for audition opportunities.
Child Employment Law
No matter how you find auditions and work for your child, their safety comes first. Therefore, never forget the important and legal requirements of the Child Performance Licensing laws.
Join The 'Not A Pushy Mum' Forum
This list includes child acting agencies which are popular with contributors on the Not A Pushy Mum forum and therefore are tried and tested. Please join this forum so that you avoid common pitfalls and mistakes.
Begin by sitting down to read through some of the posts, especially in the agencies section – it will take you hours but you will have a clearer idea of what your next move should be. If you sign up as a member you can ask for advice if using the search button doesn't answer a question you have, and you can join in the celebrations when someone shares their child's hard-won achievement.
Child Acting Agencies Near Me
If you have done your research, you will know that it does not matter if your child talent agency is located near to your home. In the UK, most acting auditions for paid roles in film and TV take place in London. Manchester is also a popular casting base. Auditions elsewhere are the exception rather than the norm. That's why so many children's acting agencies are in London and Manchester.
The matter is different for Extra work, also known as Support Artist or Background Artist work. Children working in this area are expected to live within 90 minutes of the set. Only some child casting agencies represent children for extra work. In addition, if you approach a specialist extras agency first check they represent children.
The List Of 20 Reputable UK Agencies For Child Actors
This list of agencies is in alphabetical order and is not a rating order. We have not received any financial benefit from including these agencies.
They all represent child actors for TV and Film work, theatre, commercials, voiceovers and sometimes modelling. Their talent will be asked to join (and pay for) Spotlight so they can be submitted for the most select opportunities that arise. Other acting agencies for kids are available, and if you have spent enough time looking at these listed sites you will have grasped an idea of what to look for in your continuing searches.
1) Abacus Agency
Run by a team who have trained and worked in the performing industry, this agency runs Abacus Agency for children and ABA management for adults.
Read more in our article about the Abacus Agency.
2) A&J Artists
Founded in 1984, this well-established agency has a twitter feed of impressive recent credits.
Rebranded from A&J Management to A&J Artists in 2019.
Find out more in our article A&J Artists.
A young boutique agency already attracting child actors with great experience and positive feedback from happy parents. Run by a parent with substantial experience of supporting child performers.
Applicants who may be suitable for the agency's books will be invited to audition.
4) Alphabet Kidz
5) Ardent Talent
Started in 2017 by an experienced agent and parent of a very successful child actor.
Find out more in our article about the Ardent Talent Agency.
6) Bonnie and Betty Model and Casting Agency
Established in 2009 with a northern division opened in 2013, this leading agency represents children for a variety of acting, extra and modelling work.
Read our article about the Bonnie and Betty model and casting agency.
The clients' pictures and names are available on the website; some people may feel uncomfortable about it and others will see it as great advertising for their child.
Their twitter feed publicises castings with a professional photograph of the selected child.
Running alongside a stage school, the agency accepts applications from children all over the country.
Read the applications process carefully if you'd like to be considered for the next round of auditions.
9) Daisy And Dukes
This agency specialises in babies, children and young performers.
They accept applications from around the UK but you must be willing to travel.
Find out more in our article about Daisy And Dukes.
10) Dee Boss Talent Management
Dee Boss Talent Management was started in 2016, representing both children and adults.
The website offers a dedicated application page for those wishing to join the agency.
Their Twitter feed is daily updated with news of castings and booked jobs, with a lot of supporting comments between represented actors.
Find out more about this agency in our article on Dee Boss Talent Management.
11) Hashtag Talent Agency
Run by two mums who understand the industry from a child and parent's point of view as well as an agent's side.
Find out more in our article about the Hashtag Talent Agency.
12) Hero Talent Group
The Hero Talent Group is a boutique agency representing young actors from around the UK.
It's a young agency but the team has more than 50 years of industry experience, in a broad range of expertise.
Their news page and twitter feed show their busy clients working on top West End shows and also popular TV programmes.
Find out more in our article about Hero Talent Group.
13) Mad Fish Management
Based in East Sussex, this established agency represents children and young people from around the UK.
Find out more about them in our article about Mad Fish Management.
14) Mark Jermin Management
Adults and child actors;
Applications considered from around the UK;
They specialise in up and coming talent;
Range of work including TV, voiceovers and extras;
Read more in our article on Mark Jermin Management.
15) Mondi Associates Ltd
This London based agency has an adult division and a separate Young Performers division.
Find out more in our article about Mondi Associates.
16) Ology Kids Casting
This agency is based in North West England. It represents children and young people to the age of 21.
You can find out more in our article about Ology Kids Casting.
17) PD Management
London-based talent agency representing 4 to 18 year old actors and music theatre performers.
You will find the audition dates advertised on their website, therefore you and your child will have plenty of preparation time.
Find out more in our article about PD Management.
18) Purple Giraff Talent Agency
Opened in Cheshire in 2016, this small agency has already got its clients into major productions.
Find out more about joining this agency on our Purple Giraffe Talent Agency page.
Based in Northern Ireland
Represents young actors in Belfast, Dublin, and London
Founded by the Principal of The Pamela Cassells School of Performance
Established agency opened more than five years ago
Busy Facebook page
Auditions for potential new clients
Workshops and training offered throughout the year
20) Top Talent Agency
Started in 2008, this agency represents performers from around the UK.
It now runs as two divisions; Top Talent Adults and Top Talent Kids.
Read more in our article about Top Talent Agency.
TV show "Under Age & On The Stage" looked at the work of UK talent and model agency BizzyKids and followed progress of some of their child actors and child models:
Other Good Agencies For Child Actors Exist Across The UK
Once you have investigated the agencies listed above, you will have a good idea of what signals a reputable and successful children's acting agency and how to spot a fake agency. So when you consider an agency not listed here, you know what to look for.
Some suggestions from the NAPM forum are the PHA Model and Casting Agency, Lime Actors Agency and Management, Amber Personal Management, and Urban Talent Actors Management.
You may also consider children's acting agencies which represent the young performers attending their classes, some of which accept external applications too. They include:
For more options, we've summarised information about hundreds of agencies across the UK. The number of acting agencies that have ceased trading gives you an idea of how hard it is for performers to book paid work and, moreover, for agents to run successfully and profitably.
Acting Agencies Around The UK:
But do always double-check each agency's track record and recent history because staff change, businesses are sold to new owners and representation fees can appear overnight.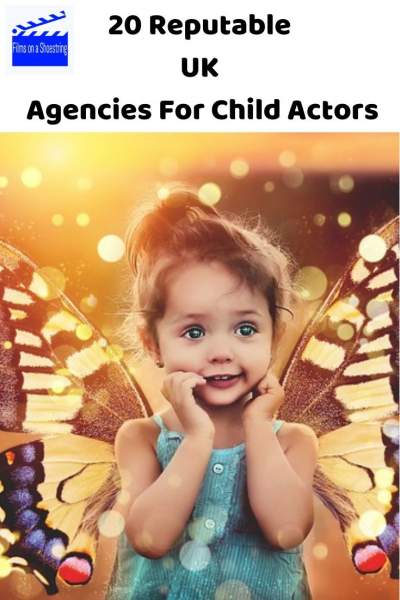 Don't Forget Child Extras Agencies
Children acting on stage and screen attend rounds of auditions for each and every role. In the UK, child extras, working in the background of TV shows and feature films, are normally chosen from their headshots.
There are a number of agencies whose main focus is Child Extra work (supplying child supporting artistes for film and TV).
Some of them will also register interested clients onto the Spotlight directory and submit clients for the acting roles listed there.
We have a list child extras agencies which represent children for this area of work.
Find our key articles on the Home page.
No advertising or sponsorship money has been received from any of the agencies listed. Instead, clicks on the third-party adverts pay the running costs for this site.