If you are a young person who loves to act and wants to become an actor, joining a youth theatre or triple threat training is essential. This article sets out what youth theatres have to offer, and provides lists of groups near you.
Contents:
What Is A Youth Theatre?
The term 'youth theatre' is used to describe any acting-based group for young people.
It can be held at a theatre, village hall, dance school or any other flexible venue. The age range is normally 11-18, but some accept younger children and others stop at the age of 25. Some groups are free, run by volunteers or more rarely by sponsored paid leaders. Most have an attendance fee.
What Do Youth Theatres Do?
It will all depend on the facilities and funding available.
Almost every group runs a weekly workshop during term time. They cover a range of storytelling and performance techniques in an accessible way. A lot of collaborative work among young people is normal in these sessions.
Most youth theatres will hold regular performances. If they are part of the mainstream or amateur theatre setup, the young people may be involved with performances which also include adults. More usually the group will present plays fully cast with members of the youth theatre.
Some groups also take part in local and national projects. Overseas trips have mostly died out because of licensing and child protection issues.
The majority of youth theatres will concentrate on drama. Musical theatre and dance sessions occur where the leaders have relevant experience and interest.
Youth theatres are not run specifically with the aim of preparing actors for drama school or an acting career. It's the exception for participants to be represented by an acting agency. But if you want to work as an actor then the skills and experience gained at these groups are invaluable.
Triple Threat Training
Youth theatres rarely offer high level, intense training in singing and dancing skills. If your aim is musical theatre, seek out the best tripe threat training you can. Dance schools which participate in regular national competitions are a great option, as many of their students move on to full time triple threat degree courses.
In addition, organisations such as Stagebox select and train students chosen from highly competitive auditions.
Backstage Skills And Experience
Every performance on stage needs someone to design and provide costumes, props, lighting, sound, and be the stage manager. Very few young people show an interest in these areas and very few youth theatres actively recruit backstage teams. It is a shame because these are very interesting and fulfilling areas of creativity.
The National Youth Theatre of Great Britain  (usually known as NYT) runs a backstage course each summer. Most applicants only consider the acting course. Yet the experience and skills the backstage course provides are invaluable to any young person with creative interests.
How Do You Join A Youth Theatre?
It depends on the individual group. If you look at their website, they will give full details.
A few are highly selective. The National Youth Theatre receives approximately 5,000 applicants each year for just 500 places on the summer acting courses. You can find out more about on in our article National Youth Theatre Rejection? Try Again! Selective groups and companies such as the TV Workshop hold auditions.
The majority of Youth Theatres run with the aim of introducing performance and creativity to any young person who may benefit from it. In these cases, you do not need to audition for membership. But you will be put on a waiting list if there are more applicants than places available. Furthermore, the groups who don't charge are most likely to have long waiting lists.
Should I Look For A Youth Theatre With An Agency?
If you want to get experience as an actor, you could
Always exercise caution when applying for acting work. You and your money are at risk. That's why we added a section about safety in our article 20 Reputable UK Agencies For Child Actors.
If you have not yet finished your GCSE exams, you normally need a Child Performance License to act. This applies to stage and screen, even if you aren't being paid.
A List Of Youth Theatres In London
Arcola Young People's Programmes (Dalston); ages 9-20; professional directors & facilitators
Camden Youth Theatre (Drummond Street); ages 13-19; Monday nights during term time
Half Moon Youth Theatre (White Horse Road); for ages 5-18-year-olds; also a specialist group for disabled young performers
Lewisham Youth Theatre (Rushey Green); for under 8s up to the Graduate Company of young adults; no fees or entry audition
National Youth Theatre (Holloway Road); prestigious; a range of workshops and courses
South London Youth Theatre (Dulwich); from age 7; act, dance & sing
Theatre Royal Stratford East (Gerry Raffles Square); for ages 12-24; also additional workshops and summer schools
List of Youth Theatres In South East England
Beginners On Stage Drama School (Fleet); ages 3-20; classes include LAMDA exams
Centrestage Productions Youth Theatre (The Point, Eastleigh); School years 3 – 13
Chesil Theatre Youth Theatre (Winchester); for those in school years 4-7 and 8-13
Debut Youth Theatre (Southampton) for 8 to 18-year-olds
Encore Youth Theatre (Winchester); for those aged 11+; musical theatre
Fleet Youth Theatre (The Harlington, Fleet); for ages 6-18
The Gantry Youth Theatre (Bitterne Park Secondary School); for Year 1 to 12+; a registered charity
Hungry Wolf Youth Theatre (Brighton); ages 14-21 years
Mayflower Youth at the Mayflower Theatre (Southampton); a range of projects
Nuffield Southampton Theatres (Southampton); for those aged 5-21 years
Oasis Academy Youth Theatre (Oasis Academy Lord's Hill)
Oxted Young Persons Theatre (Oxted); ages 7-25 years; those with disabilities welcome
The Point Eastleigh (Eastleigh) for those aged 5-21 years
Princes Hall Youth Theatre (Aldershot); for ages 5-16
The Stage Door Youth Theatre (Southampton); for 4 to 18-year-olds; Southampton City Council; charges apply
Stagecoach Winchester (Winchester); for ages 4-18
Sussex Youth Theatre (classes at 7 locations); for ages 6-18; also runs its own agency
Theatre For Life Youth Theatre (Richard Taunton Sixth Form College, Southampton); for 14 to 19-year-olds; free to attend
Theatre Royal Winchester (Winchester); for 5 to 16-year-olds; bursaries available
Winchester Hub Youth Theatre (Carroll Centre, Stanmore); for ages 7-11; free to attend
YEM Theatre School (venues include Alton & Farnborough); a wide range of classes and activities
A List Of Youth Theatres In The South West of England
ACTA Community Theatre (Bristol); includes the Young Carers Youth Theatre
Barnfield Theatre Playback Youth Theatre (Exeter); ages 11 to 18
Brewhouse Youth Theatre (Taunton); ages 7 to 18
Bristol Old Vic Young Company (Bristol); ages 5 to 25
Bristol Youth Theatre Studio (Bristol); ages 13 to 21
Cygnet Youth Theatre (Exeter); ages 11 to 18
Limelight Theatre (Taunton); ages 7 to 17
Northcott Young Company (Exeter); ages 9 to 16
Pauline Quirke Academy (Bristol); ages
Salisbury Studio Youth Theatre (Salisbury); ages 11 to 17
Stagecoach; various locations
Tacchi-Morris Arts Centre (Taunton); various groups and workshops
TAODS Theatre Company Youth Theatre (Torquay); ages 12 to 18
Tobacco Factory Theatres (Bristol); ages 7 to 19
Travelling Light Theatre Company (Bristol); ages 4 to 19
Young Pretenders Theatre Company (Exeter); ages 12-16
Youth Theatres In The East Midlands
Big Box Youth Theatre (Nottingham); ages 8 to 18.
Derby Theatre (Derby); ages 8-18 youth theatre groups and technician courses. Plus technical theatre internships.
Duchess Theatre (Chatsworth Arts Centre, Long Eaton); a large variety of groups
Frenzy Youth Theatre  (Loughborough); 22 months to 18 years.
Lakeside Youth Theatre (Nottingham Lakeside Arts); ages 5+ up to the 14+ group.
Little Theatre (Leicester); ages 8 to 18.
New Youth Theatre (Nottingham, Leicester); ages 3 to 17.
Nottingham Playhouse Youth Theatre (Nottingham); ages 18 months to 18 years.
Razzamataz classes are held in several centres in the East Midlands.
Stagecoach runs a number of classes in the region.
Stamford Youth Theatre (Stamford, Lincs); ages 7 to 16.
Tolethorpe Youth Drama (Stamford); ages 5 to 18.
List Of Youth Theatres In The West Midlands
Belgrade Theatre Youth Acting Classes  (Coventry); ages 8-16
Birmingham Hippodrome Musical Theatre Youth Company (Birmingham); ages 11-18
The Brit Youth Theatre  (Sutton Coldfield ); ages 6-18
Central Youth Theatre (Wolverhampton); ages 8-25
The Crescent Youth Theatre Company; ages 14-18
Criterion Theatre Youth Theatre (Earlsdon); ages 7-16
The Drama Club (Stratford-upon-Avon); ages 7-16
Grand Arena Youth Theatre (Wolverhampton); ages 9-18
Hall Green Little Theatre (Birmingham); ages 7-18
Playbox Theatre (Warwick); Preschool to 25-year-olds
Raw Talent Youth Theatre (Sutton Coldfield); ages 6-16
Stage2 (Birmingham); ages 7-21 with no audition required
Stagecoach (Stratford-upon-Avon); ages 6-18
Start-Up Saturdays National Youth Theatre (Birmingham); ages 11-14
The Young Rep @ Birmingham Repertory Theatre (Birmingham); for ages 7-25
Youth Theatres In Yorkshire And The Humber
1812 Youth Theatre & Tykes (Helmsley); ages 9-19
Bradford Playhouse in association with the Yorkshire School of Acting
City Varieties Youth Theatre (Leeds); ages 8-17
Crash Bang Wallop (Stokesley); ages 5-20
Duck Egg Theatre Company (Various locations); ages 3-24
Electric Youth Theatre (Goole); ages 5-18
Frenzy Youth Theatre (Raskelf); ages 8-12
Georgian Theatre Royal Youth Theatre (Richmond); ages 6-18
Leeds Playhouse Youth Theatre (Leeds); ages 5-21
Ramps On The Moon (Various locations);
Richmondshire Youth Theatre (Richmond and Leyburn); ages 6-18
Riding Lights Youth Theatre (York); ages 11-18
Ryedale Youth Theatre (Ryedale)
Stephen Joseph Theatre (Scarborough); up to 21
Theatre Royal Wakefield (Wakefield and Pontefract); ages 5-18
Yew Tree Youth Theatre (Wakefield & Ossett); ages 7-18
Yorkshire Theatre Arts (Cleckheaton); ages 8-18
York Youth Theatre @ York Theatre Royal  (York); ages 5-19
A List Of Youth Theatres In North East England
Act2Cam (Several locations); targeted to filmmaking and screen acting; associated talent agency
Alnwick Playhouse Youth Theatre (Alnwick); for ages 7-19
DJW School (Middlesbrough, Stockton & Newcastle); classes include LAMDA; associated with DJW Talent
Darlington Hippodrome Youth Theatre And Dance (Darlington); for ages 7-18
Durham Youth Theatre (Durham); musical theatre stage school; Saturday morning rehearsals
Gala Theatre Stage School (Durham); ages 3 to 23; drama and dance
Identity Youth Theatre (Darlington); for ages 4-18
Live Theatre Youth Theatre (Newcastle – West, East, and Central); for ages 11-25; no auditions and no fees
Maltings Youth Theatre (Berwick); ages 14+; associated drama groups for younger ages
Middlesbrough Youth Theatre (Middlesbrough); for ages 7-25
Razzamataz Theatre Schools (Newcastle); a wide range of classes
React! Youth Theatre (Consett); musical theatre classes; for ages 7-17
Stagecoach Newcastle; a wide range of classes
Theatre Royal (Newcastle); for ages 5-25; various groups for different ages
Tyne Valley Youth Theatre (Prudhoe); for ages 5-19
Young People's Theatre @ People's Theatre (Newcastle); for ages 11-18
Youth Theatres In North West England
Bury Youth Theatre (Bury); every Wednesday in term time
CATS Youth Theatre (Bury); for ages 5-21
Fairstage Academy (Manchester); for ages 3+; a wide range of dance, drama and singing classes
Library Theatre's Young Company (Manchester); for ages 14-18; free to attend; only 20 places
Liverpool Theatre School (Liverpool); for ages 19+; musical theatre performers and actors training
The Lowery (Salford); up to age 25; a wide range of dance and drama activities
Manchester Musical Youth (Manchester); for ages 11-19; associated groups cover ages 5 to 30
North West Stage School (Manchester); for ages 7-24
Oldham Coliseum Theatre (Oldham); ages 12-25; a wide range of activities, classes, and training
Oldham Theatre Workshop (Oldham); for ages 6-25
Playhouse2 (Shaw, Oldham); under 18s
Royal Court Theatre Youth Theatre (Liverpool); for ages 11-19; free of charge; a wide range of creative workshops
Royal Exchange Theatre – Young Company (Manchester); for ages 14-25
Theatre On Foot (Liverpool); for ages 6-18; working in theatre and outdoors
Unity Youth Theatre (Liverpool); for ages 14-18; Mondays 6-8.30pm
Young Everyman Playhouse (Liverpool); for ages 14-25; free of charge; 6 strands of specialism
A List Of Youth Theatres In Scotland
Aberdeen Performing Arts Youth Theatre (Aberdeen); for ages 5-18 years
Aberdeen Youth Music Theatre (Aberdeen); P6 upwards
Borders Youth Theatre (various venues in the Borders)
Dundee Rep Youth Theatre and Young Company (Tay Square, Dundee)
Giz Giz Youth Theatre (Aberdeen); ages 8-18 years
Junction 25 (Tramway Theatre, Glasgow); for ages 11-18 years
Lyceum Youth Theatre (Edinburgh); for ages 5-18 years
Monifieth Amateur Dramatics Youth Theatre (Monifieth Theatre); for ages 11-18 years
Phoenix Youth Theatre (Aberdeen); ages 4-18 years
Scottish Youth Theatre (Glasgow); for ages 3-25 years; cuts to public funding put the future of this group at risk
Shazam Theatre Company (Whiterashes, Aberdeenshire); ages 8-18 years
Solar Bear (At Scottish Youth Theatre, Glasgow); for young people who are deaf, deafened or hard of hearing
Strange Town  (Edinburgh); ages 8-18 years; run their own agency
Youth Theatre Groups In Wales
Bitesize Youth Theatre (Rhosrobin, Wrexham)
Bridgend Youth Theatre (Pencoed/Porthcawl); for school Year Groups 3-13; theatre, film & TV
Congress Youth Theatre (Cwmbran & Torfaen); different groups for ages 8-13 and 13-18
Curtain-Up Youth Theatre (Maesteg, South Wales); musical theatre; listed on Spotlight as Maesteg Youth Theatre
Dolman Youth Theatre (Newport, South Wales); ages 11-17; entry auditions twice a year
Menter Cwm Gwendraeth Elli (Ponbyberem Hall)
Mid Powys Youth Theatre
Montgomeryshire Youth Theatre (Welshpool, Powys); Classes start from school year 5, until age 21; low cost; no audition
National Youth Theatre Of Wales; for ages 16-22; aimed at those looking for a theatre-related career
Sherman Theatre (Cardiff); for school Year Groups 4 to 13
Volcano Youth Company @ Volcano Theatre (Swansea); for ages 13-21; a range of classes for younger age groups
West Glamorgan Youth Theatre; for ages 13-21
Young Actors Studio @ Royal Welsh College Of Music & Drama (Cardiff & Pembrokeshire); for ages 16-20; workshops from age 11
Youth Theatres In Northern Ireland
Class Act Drama Academy (12 venues) for year P1 to end of secondary school
First Call Youth Theatre at Derry Playhouse (Derry) 16 to 25-year-olds
Grand Opera House Youth Theatre (Belfast) 9-18 year olds
JH Academy (Belfast) from the age of 3 upwards
MAC Youth Theatre (Belfast) 16-18-year-olds
The Rainbow Factory (Belfast and Banbridge) for 10 to 25-year-olds
Ravara Productions (Belfast) for 5 to 25-year-olds
Ulidian Youth Theatre Company at the Waterside Theatre (Derry)
Youth Lyric (Belfast and Antrim) for 14 to 21-year-olds
Unfortunately, Music Theatre 4 Youth had to close in 2015 after a 100% cut in funding from the Arts Council of Northern Ireland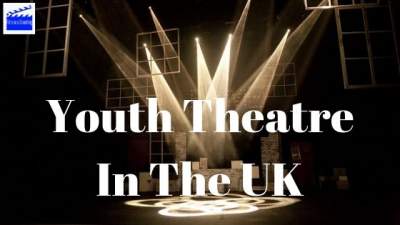 Do You Run A Youth Theatre Group?
If we have missed your group and you'd like us to include you, please do get in touch via the Films On A Shoestring Facebook page.
While collecting the above lists we noticed the varying quality and level of information immediately available. Many organisations fail to sell themselves online.
Parents seeking any activity for their children have a bewildering number of options available in every part of the country. Make sure your online presence makes them choose your drama classes, youth theatre or dance school over the competition. Answer all their questions without having to make a phone call.
What Are Parents Looking For When Seeking Kids' Dance And Acting Classes?
There are plenty of local kids' dance and acting classes on offer throughout the country. Furthermore, almost every town has its own youth theatre. In the past, it was acceptable to keep everything low key with after-school classes in a church hall. Students would find you by word of mouth.
Today's premises and insurance costs, together with any staff costs you may have, plus the significant administrative time for child protection, finance, and exams, mean you need to bring in enough students to justify your investment.
We live in an age where parents want outcomes for their children. Schools are judged by exam results, music lessons must result in grade exams, and sports coaching in preparation for tournament entry. Older teenagers are often no longer enjoying hobbies, but participating in extracurricular activities for the personal statement on the UCAS university application form or apprenticeship application.
Parents can have a variety of reasons for seeking dance or performance training for their children. All of them want to nurture the mental and physical health of their children, with social development as part of the package. Some of them want their children to take exams so they can see progress is being made and have evidence of their child's ability. Others have a view to a future career and want their child to obtain the skills required for entry into professional training.
And every time there's something tangible to be photographed, it's straight on to social media.
Designing Your Website For Drama Classes: Three Essential Questions
In particular, you must check three things:
Does your website tell parents what they need to know?
Does your website show you are offering high-quality training?
Do you market your classes widely in the local area?
Given the amount of competition in the sector, the youth theatre or dance school which covers the most bases will get the lion's share of parental interest.
Does Your Website Tell Parents What They NEED To Know?
It is highly likely that a busy working parent will be looking for classes for their children. There are exceptions to this of course, but mothers usually take responsibility for the search. Furthermore, working mothers have more money to spend on classes. Making lots of phone calls takes time and organisation, can only be done at certain times of the day, and might miss key facts.
A well set out website which contains all the information a parent needs can be viewed quickly late at night or during a lunch break.
Your website must show a timetable of classes. The parent is trying to fit classes for one or more children into a week already packed with work, commuting and school runs, care of elderly relatives, and other activities programmed for themselves or the children. An easily accessible timetable allows them to consider whether they can get their child to your location each week without disruption to everything else.
You must clearly set out the cost of classes. Keep it simple and therefore easy to understand. If you provide discounts for multiple classes then set out a table showing the actual amount that would be paid.
Are you offering exams? Make sure you explain the board used and something about how many grades are offered. Indicate where pupils will take the exams and what exam uniform is worn. In addition, add a list of exam fees and keep it up to date.
If you have a uniform policy, explain it in writing so it is clear. Then add a picture to the website showing children wearing the full uniform. Also, tell parents where they can buy each item and how much it costs.
Does Your Website Show You Are Offering High-Quality Training?
Some dance schools are training children at a high level and participating in national dance competitions. New parents will be unaware that these even exist. Therefore, a page on your website explaining the training commitments, cost and competition programme for the year would alert parents to the quality of teaching available at your dance school.
Are you are offering acting classes? Talk enthusiastically about the productions your pupils have taken part in. Add pictures which are of interest to new parents.
A page of past pupils' success really helps to sell your classes. If someone has gone to train at a top dance or drama school remember that new parents may not have heard of these institutions. Consequently, you must explain what they are and how difficult it is to get a place there. For example, RADA is a household name but few people understand that at least one hundred applicants compete for every single space on their acting degree course.
Anyone who has performed on stage or film, or been in a commercial, builds a picture of your school as providing the foundation of a successful career.
Do You Market Your Classes Widely In The Local Area?
Once you have a good website set up, you need local parents to find it. You can create an eye-catching advert for the local paper. Or consider one of the publications delivered free to all houses in the local area. However, this is expensive both in terms of the setup costs and the advertising costs.
You could consider paying for online adverts, such as through Google Adwords. You will usually pay for the advert if someone clicks onto it and not for the page views. Therefore you are paying for advertising to interested parties only.
Alternatively, use social media to effectively market your brand and classes.
Use Social Media For Free Advertising Of Your Classes
Social media is a good way to obtain free advertising. You are targeting parents rather than the young people themselves. Teenagers who have access to good photos and activities already promote you on platforms such as Instagram. For your own marketing, you want a format allowing you to show photos and a decent amount of sentences. Facebook is probably the most relevant tool to use.
It is very easy to set up a Facebook page or group and takes just a few minutes. However, make sure you use it and frequently update it. Put on exam dates, show dates, celebrate exam successes and talk about competition entries. Furthermore, congratulate past pupils as they progress in their careers.
Keep an eye on relevant Facebook groups. Especially relevant is the group for the area in which you are located and the group for performers in your area. Has a student filmmaker asked for children to act in their short film? Post that your school has many talented children in that age bracket. Add a link to your website and add your phone number. The post can be seen by every member of the group including those looking for kids' dance and acting classes. The more times you post, the more familiar people will become with your existence.
Some managers of kids' dance and acting classes encourage wider interest in their Facebook page by linking to interesting website pages. An article about the importance of drama in a child's social development, for example, is easy to link into your Facebook page. It would generate interest from a wide range of interested parties. Just copy the URL of the page, then click 'post' into the Facebook page post. Then Facebook will take mere seconds to present the title, picture and post link in an attractive format. You can even add your own comments above. If you do this at least once a week you will find a larger audience engages with your Facebook Page. This includes the parents of your students.
Remember, You Must Sell Your Youth Performance Classes To New Parents
Finally, you know you offer a great experience for your students, and that the price offers decent value for money. But parents do not know this unless you inform them yourself.
By designing a website which tells parents what they want and need to know, you should be generating plenty of local interest that makes your kids' dance and drama classes the number one destination for local interested families.